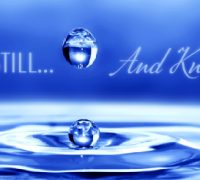 Today's scripture: Romans 13:14 (NRSV) (The Message) (KJV) What might God be saying to me?
My thoughts (Lynnette Pullen-Bradford):
One of the cruelest things in the world is to show someone the depth and breadth of the Christ's love and ,then, exclude them from it.
When I was in my early twenties (I'm almost forty now), I had an aunt who took me under her wing and introduced me to Christ. She gave me a Bible, and, when I told her I didn't know where to start, she instructed me to "Start with John. He talks about the beginning."
I still remember the cracking sound the spine made when I opened my Bible for the very first time. Initially, I was confused about starting in the back, but when I read "In the beginning…" I figured I was in the right spot. I went on to read and digest as much as I could. And, over time, I began to fall for this Jesus guy.
I would sometimes call my aunt for prayer and guidance in times of trouble. She was always gentle and loving. Her words, even through the phone, felt like a warm hug every time we spoke. Unbeknownst to me, she became a strong representation of Christ's love. Nurturing. Supportive. Caring. Sacrificial. Unconditional…or so I thought.
Fast forward years later to the day I told her that I was in love with a woman, and I felt in my heart that Christ welcomed that love. The onslaught of instant rejection, rebuking and exclusion I received was almost incapacitating. I mean, I'm no idiot, I knew she wouldn't like it or even approve, but I didn't think she would turn her back on me. I didn't think I would be the center of scandal in my family, leaving the totality of my life long relationships in ashes.
What happened to that unconditional love?
I thought for sure I would get one of those "Honey, we love you no matter what" spiels. Instead, I got references to having a "dark spirit" in my life, and my ability to parent my children was brought into question.
I believe this was what Paul was referring to in Romans 13:14 when he said: "Therefore let us not pass judgment on one another any longer, but rather decide never to put a stumbling block or hindrance in the way of a brother."
My aunt rejecting me and my lifestyle choice is one thing, but for her to question my salvation and present her own unloving disapproval as that of Christ's is another. The only thing that kept me from losing my faith in God was that my faith is not rooted in her.
Although I went to her for guidance and support, I sought to know and understand Christ on my own. She may have given me that Bible, but I was the one who prayed for understanding and took the time to read it and build a relationship with God. And, when my faith was attacked, it was strong enough to weather the storm.
There are many well-meaning (and some not-so-well-meaning) people in our lives who will attack our faith. Those attacks can become stumbling blocks for you and send you spiraling downward and away from the One who loves you most. Be strong in your faith. Study the Word for yourself. There are many free resources online to help. Don't ever let someone else build your faith for you. That only breeds weakness and dependency on them. Build your faith so that you may withstand the anything that would come to attack it.
Prayer for the day: God, thank you so much for the gift of your Word. Help us to each learn how to rightly divide and discern it for ourselves so that we may get to know You. In Jesus' name we pray. Amen.
We encourage you to include a time of prayer with this reading. If you need a place to get started, consider the suggestions on the How to Pray page.